AussieMacZone
Episode: 022
Title: Breaking news…iPad mini with retina display now available for order!
Hosts: Glenn Goodman, Jayson Walmsley, Michael Seamons
Bandwidth for Aussie Mac Zone is provided by Aussie Tech Heads Hosting:
Thanks to our sponsor: IT Help 4U Penrith NSW – who are an Authorised Apple Service Centre:
Theme music provided by:
Feedback or questions? What would you like to see on the show?
---
News 
Retina iPad Mini Now Available for Purchase From Apple's Online Store
In something of a surprise move, Apple has begun accepting orders for the Retina iPad mini in the United States and several other countries as of midnight Pacific Time on November 12. Orders for the 16 and 32 GB Wi-Fi versions are currently shipping within 1 to 3 business days while orders for the 64 and 128 GB versions along with cellular models are shipping within 5 to 10 days. 
The company did not give any early indication that it would launch the Retina iPad mini today, aside from a mention of the seemingly unlikely November 12 date on its GSX site for service providers just hours ago. 

The quiet launch of the Retina iPad mini may be due to constrained supplies, as rumors have suggested that available quantities of the mini will be extremely low due to display production issues. Apple is unlikely to have enough supply of the tablet to meet demand. 
Visually, Apple's Retina iPad mini is nearly unchanged from the original mini, though it is both slightly heavier and thicker. The tablet includes a Retina display with a 2048 x 1536 resolution, along with an A7 processor and the M7 coprocessor originally introduced in the iPhone 5s. 
Apple Maps Significantly More Popular Than All Other iOS Mapping Apps, Including Google
After a rough launch last year, Apple Maps appears to be doing very well for itself, with 35 million U.S. iPhone owners using the app in September 2013, versus 6 million iOS users of the downloadable Google Maps according to data from comScore and The Guardian.
The data remains a little fuzzy as neither Google nor Apple publicly release their usage figures, but if they are even close to correct, Apple has largely succeeded with its Maps rollout and Google has lost a tremendous number of Maps users in just a year.
It's likely that Apple's success is largely due to the incredible advantage default apps hold on mobile platforms, with the majority of users finding Apple Maps to be "good enough" and not looking for an alternative.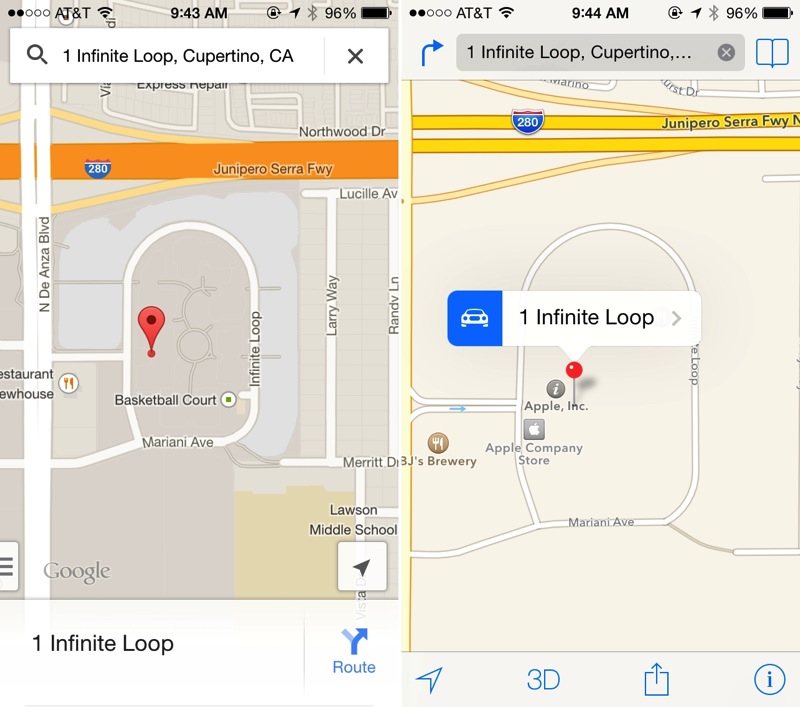 According to comScore, Google Maps has gone from 81.1 million mobile U.S. users last year to just 58.7 million this year, a drop of more than 20 million. At the same time, the total number of iPhone and Android phone users in the U.S. increased from 103.6 million to 136.7 million. comScore attributes this significant drop largely to the introduction of Apple Maps as the default app on iPhones, as well as an increasing share of younger users that don't use any mapping application.
http://cdn.macrumors.com/images-new/quote.png); line-height: 17px; background-position: 0px 12px; background-repeat: no-repeat no-repeat;">ComScore's data shows that in September 2013, 35m used Apple's maps at least once during the month, out of a total iPhone population of 60.1m. The 58% usage on the iPhone is reckoned to reflect the growing number of younger users who do not use mapping services; the proportion of iPhone users who use any mapping service, including Google's, has been dropping since April 2012, according to ComScore's data.

Wood said: "The thing is, on an iPhone all roads lead to Apple's maps. They're putting this front and centre for users, and getting more confident." For Google, he said, "They're very fortunate that Android is a big source of data – they will be very relieved at that." He cautioned that US iPhone users might be more eager to use Apple's maps because there seem to be fewer errors there compared to other regions, including Europe.
35 million iPhone owners used Apple Maps in September, out of 60.1 million total iPhone owners in the United States, some 58 percent. Based on The Guardian's modeling, this means roughly 8.3 million iPhone users are using an alternative mapping application like Google Maps, with approximately two million of those using the pre-iOS 6 default Google Maps application because they have not upgraded to a newer version of the iOS.
Australian Vodafone Store Evacuated After Demo iPad 'Explosion'
A Vodafone retail store in Canberra, Australia was reportedly evacuated earlier this week after an in-store demo iPad "exploded", filling the location with smoke and sparks, reports News.com.au. While no one was harmed during the incident, the iPad reportedly emitted the sparks from its charging port as firefighters were called to the scene to handle the situation. An Apple representative reportedly visited the scene afterwards to investigate the explosion, but Apple has not commented on the incident. 
Interestingly, the report originally stated that the device was an iPad Air, but the article has since been revised to simply refer to it as an "iPad" and the device shown in the photo accompanying the article does not appear to have the narrower side bezels seen on the new iPad Air.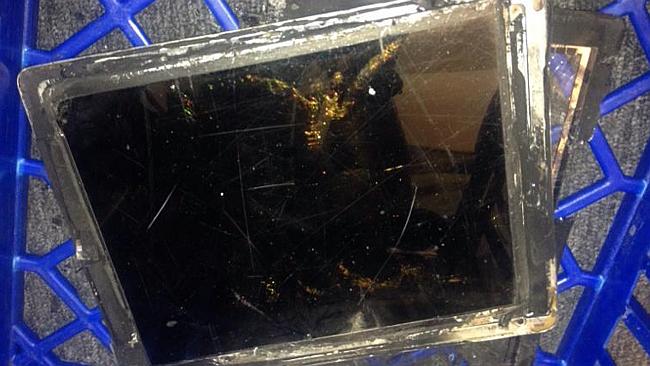 This is not the first time this year that an Apple product was accused of being a safety hazard, as a woman in China suffered eye injuries from her iPhone 5 after it exploded while she was on the phone this past August. Additionally, a Chinese man was left in acoma after receiving an electric shock while charging his iPhone 4 in July, which followed the death of a Chinese woman under similar circumstances. 
Both latter incidents apparently involved the use of unauthorized third-party adapters, with Apple responding to the events by establishing an international third-party USB charger "Takeback Program" offering official replacement chargers for $10 to anyone who turns in a suspect adapter. 
Apple began selling the iPad Air last Friday in over thirty countries through its official online store and at various other outlets.