AussieMacZone
Episode: 042
Title: hydro, cars and questions
Hosts: Glenn Goodman, Michael Seamons, Jayson Walmsley
Bandwidth for Aussie Mac Zone is provided by Aussie Tech Heads Hosting:
Thanks to our sponsor: IT Help 2U
Theme music provided by:
Feedback or questions? What would you like to see on the show?
---
News
Apple buys hydroelectric green energy project near Oregon data center
Apple is expanding its use of clean energy to power its iCloud data centers, with the company's Prineville, Oregan, facility now flanked by a small hydroelectric project acquired by the iPhone maker.
Alpine and Apple in talks
Apple has been actively working to get CarPlay, its iOS-based in-car infotainment system, into high-end 2014 vehicles—partners include Ferrari, Jaguar, Mercedes-Benz, and Volvo. But what if a new car isn't on your shopping list this year? According to a report from Nikkei, your existing car could be in line for a CarPlay upgrade later this year. Apple is reportedly working with Alpine Electronics to develop an aftermarket CarPlay system for drivers looking to upgrade their existing cars. That would make Alpine the first company to offer an aftermarket CarPlay product. The system is expected to launch first in the United States and Europe, in the second half of 2014. It will reportedly cost between $500 to $700. According to reports, Alpine's CarPlay product will feature a 7-inch display and require a wired connection to an iPhone 5 (or later) device running iOS 7. Users will be able to access messages, make calls, and play music via voice commands.
Photo of Alleged Front Panel from Larger-Screen iPhone 6 Surfaces
An alleged photo of what appears to be a front panel from Apple's larger-screen 
iPhone 6
has surfaced on Chinese microblogging site Weibo (via 
iPhone.fr
, 
Google Translation
).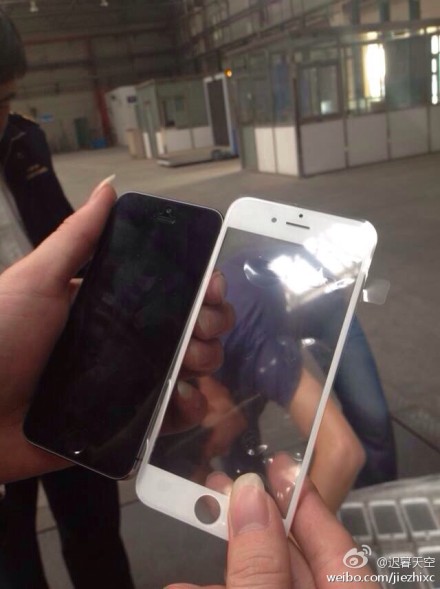 The image appears to show an individual in a factory-type setting holding up an iPhone 5s next to a much larger front panel that contains similar characteristics, including cutouts for a front-facing camera, ambient light sensor, ear speaker, and home button. However, the front panel also features a notably thinner bezel, which is consistent with previous rumors about the iPhone 6's slimmer design.
While the validity of the image cannot be confirmed, the leak is the latest among a number of others recently. This past weekend, several photos reportedly showed the details on manufacturing molds for the iPhone 6, which was followed by a photo yesterday that hinted at a 4.7-inch display.
Last month, Japanese magazine MacFan published alleged design drawings of what appeared to be 4.7-inch and 5.6-inch iPhone 6 models, with a photo showing cases for the larger iPhone surfacing shortly afterward.
Apple is expected to launch the iPhone 6 later this year, which may ship in two different sizes: 4.7 inches and 5.5 inches. Recent reports have indicated that the smaller 4.7 inch version will ship first in the fall, while the larger version may ship later this year or in early 2015 due to manufacturing challenges.
Along with a larger screen, both models of the next-generation iPhone are rumored to include a new A8 processor, Touch ID fingerprint sensor and an upgraded camera featuring optical image stabilization. A report yesterday from Jefferies analyst Peter Misek also stated that Apple is negotiating with wireless carriers to raise the price of the iPhone 6 by $100.
LG Again Rumored to be Sole Supplier of Flexible Displays for iWatch
LG will be the sole supplier for flexible displays to be used in the 
iWatch
 as Apple looks to launch the device later this year in two sizes, according to a report from Korea's Naver[
Google Translate
, via 
GforGames
].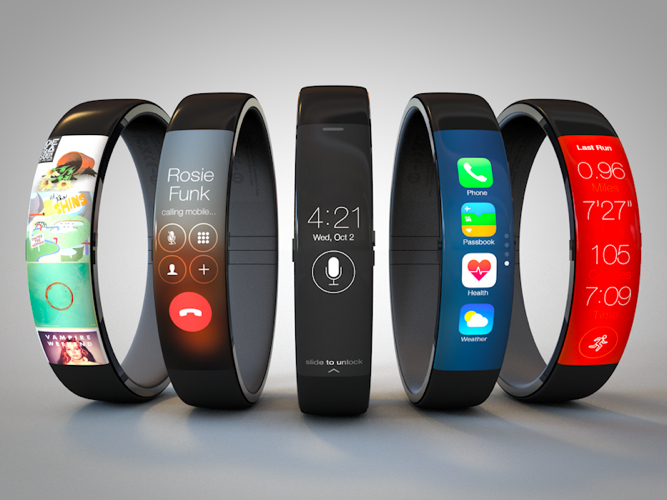 iWatch concept by Todd Hamilton, based on the Nike FuelBand
The report notes that Apple is targeting to sell 9 million iWatch units by the end of the year with LG's collaboration, as the device itself will be released in September. The report also claimed that the iWatch will come in two different sizes of 1.3 inches and 1.5 inches, which falls in line with previous reports about the smartwatch.
In February, a report from Korean publication Digital Daily shared similar details, noting also that LG would be the sole supplier of the panels for the iWatch, and that the Korean company would start mass production of the flexible displays starting in July 2014. Apple was rumored to have selected LG's panels because they were thin, light and provided adequate brightness with minimal power consumption; characteristics that the company is said to have been pursuing for the device's display.
In addition to being released in two separate sizes and featuring a flexible display, the iWatch is also rumored to come with a multitude of biometric sensors and include integration with the iPhone, iPad, and Mac. In a research note last week, KGI Securities analyst Ming-Chi also estimated that Apple will release the iWatch at multiple price points and in a variety of materials, with the highest-end selling for thousands of dollars.
Apple is expected to reveal the iWatch later this year alongside iOS 8 and the iPhone 6.