AussieMacZone
Episode: 052
Title: photos
Hosts: Glenn Goodman, Michael Seamons, Jayson Walmsley
Bandwidth for Aussie Mac Zone is provided by Aussie Tech Heads Hosting:
Thanks to our sponsor: IT Help 2U
Theme music provided by:
Feedback or questions? What would you like to see on the show?
---
News
Aperture Replacement 'Photos' to Offer Image Search, Editing, Effects and Plugins
Last week, Apple 
announced
 that the company would be discontinuing their Aperture photo management software to focus development on the new Photos app that was introduced at WWDC. Details on Apple's new Photos app, however, remains scarce, leaving Aperture users with a lot of uncertainty.
Ars Technica was able to get additional information from an Apple representative, who indicated that certain professional-grade features would be coming to the new Photos app:
When asked about what Aperture-like features users can expect from the new Photos app, an Apple representative mentioned plans for professional-grade features such as image search, editing, effects, and most notably, third-party extensibility.
Some of these editing features are already depicted in the screenshot that Apple released of Photos at the time of the announcement: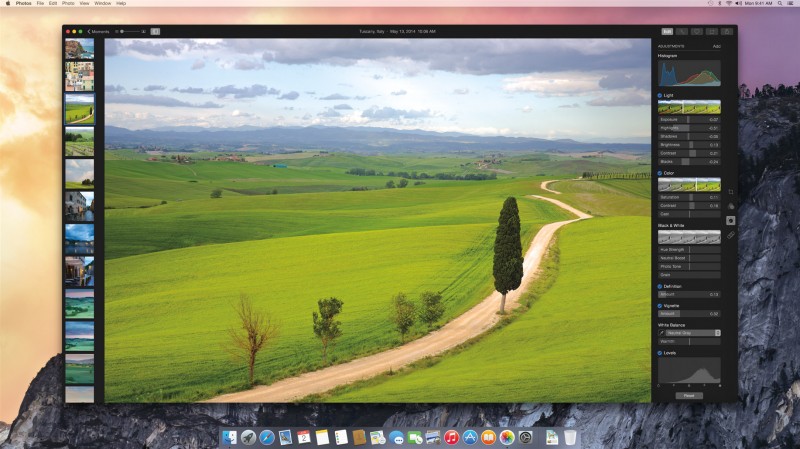 The screenshot shows an adjustments panel with settings for Light (Exposure, Highlights, Shadows, Brightness, Contrast, Blacks), Color (Saturation, Contrast, Cast), Black & White (Hue Strength, Neutral Boost, Photo Tone, Grain), Definition, Vignette, White Balance, and Levels.
Apple has promised that existing Aperture users will be able to import their libraries into the new OS X Photos app. Photos is expected to be released early next year.